Yarde Metals, Inc.
Yarde Metals, founded in 1976, is located in their spacious facility in Southington, CT. They sell metal. Nothing but metal, and lots of it. They are industry leaders in this space.
Their original website was created with Adobe GoLive, and was using a LOT of HTML tables to render the information. In most cases, these tables were not really necessary, and were hampering their ability to update the site layout and content without significant changes to the nesting of the table structure. Their website also didn't really have a "hook" for Yarde's vision and interests.
We took their requirements and came up with several designs that tried to keep the overall layout of the data, with a much different presentation. We took the antique "photo" approach, with a brushed steel background and created what you see below. This says much more about the company in a "nostalgic" sort of way, which aligns perfectly with the founder's vision and interests.
The new design flows much more cleanly, and is 1/8th the size of the original site in content. It is fully CSS'ified, and making changes to the content takes seconds, not minutes or hours. This site is incredibly easy to update and maintain. If they decide to change the site layout in the future, they can do it by changing the stylesheet directly, and not touch the content.
Original Yarde Metals Site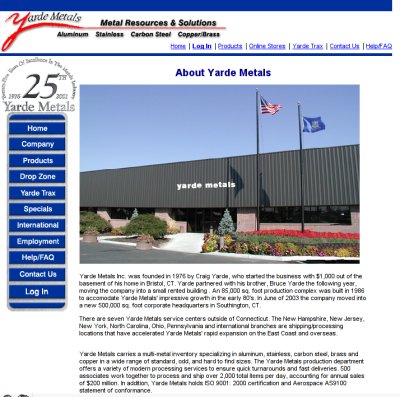 New Yarde Metals Site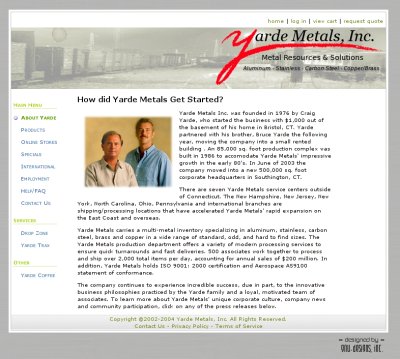 New Yarde Metals FAQ Page