Plucker PalmOS® Handheld HTML Reader
Plucker is a Free Software project for reading HTML and electronic books, or "ebooks" on your PalmOS handheld device. There have been 5 iterations of the Plucker webite over the years, and this is the latest version, and by far the most-complicated.
Due to the need to keep the site's news articles, downloads, and other pieces "fresh", the site was written entirely in Perl, as a mod-perl driven backend, using MySQL for storage. This site gets over 30,000 unique visitors PER WEEK. It also serves over 10 gigabytes of downloads per day. This site is VERY heavily hit.
The development of the site is done entirely in validated XHTML and CSS. There is not a single table tag on the site at all, and it works identically in 13 different browsers on 4 platforms. Maximum attention was spent on detail, layout, and HTML conformance and compliance.
This site looks and feels the same when you browse it on a desktop browser as well as on a cellphone or PDA itself. That was an important goal.
This website also has news "feeds" using the industry-standard RDF and RSS methods of syndication. This allows other sites to "subscribe" to the news articles, and get updates as they happen. This helps to promote new releases of the software.
We designed, hosted, and support this site for the developers. We also host and maintain the web-based bug-tracking facilities for them, as well as their revision control system for their software itself.
The site is extremely complex "under the hood", but looks and functions clean and fast to the end user.
This site relies on donations from the users and community to stay alive. There are also targeted Google banner ads on each page, to help the site remain self-sustaining.
Plucker Main Page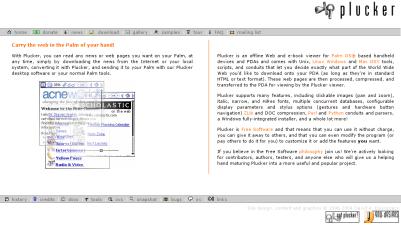 Plucker News Summary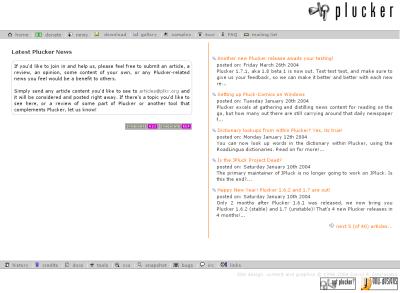 Plucker Donation Page