SourceFubar.Net
SourceFubar.Net is a Free Software project hosting service, created to serve a growing community of Free Software authors who do not have the necessary facilities or skills to set up and manage source code, revision control and project hosting tools themselves.
SourceFubar.Net provides revision control for source code in CVS or Subversion, mailing lists with a web-based management interface, web-based bug and incident tracking facilities, Internet Relay Chat or "IRC" services for real-time collaboration, and much more.
The main website for SourceFubar.Net is very basic and spartan, but the other webpages and services provided by it are quite extensive. The functionality and services provided are much more than screenshots here can justify.
SourceFubar.Net Original Page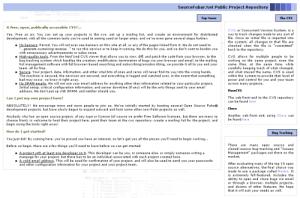 SourceFubar.Net New Homepage